We Are Calvert Hall!
More than 16,000 alumni wave their gold and cardinal colors, each with a unique path that brought them to Calvert Hall. But only one came via shipwreck off the coast of Japan.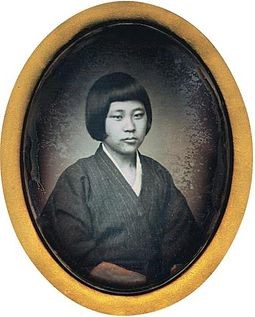 Hikozo Hamada grew up in a small farming and fishing village in Japan. At age 13, a year after his mother died, Hikozo and his stepfather made two choices that would change the course of Hikozo's life. The first was for Hikozo to accompany his stepfather's crew on a merchant ship bound for Tokyo with a cargo of saké. The second was for Hikozo to transfer to a newer, faster freighter that would get him to Tokyo two weeks sooner, allowing more time for sightseeing and then get him home sooner. As it turned out, it took him nine years to get back home, and he never saw his stepfather again.
In the waters off Tokyo, a typhoon blew up in the Pacific.
"I expected every wave would swallow us up," he wrote later, and prayed to his Shinto gods to spare his life. The typhoon destroyed the ship's sails and cast Hikozo and the crew adrift for 55 days.
The American freighter Auckland rescued Hikozo and the crew, then continued on the remainder of its 42-day journey to its next port of call—San Francisco. Hikozo quickly learned enough English to get a job as a dishwasher. When another shipwrecked crew from Japan arrived in San Francisco a year later, Hikozo served as their interpreter for the local authorities. He so impressed the Chief of the Customs House, Mr. Beverly Sanders, that Sanders hired him.
The next summer, Sanders brought Hikozo with him to his vacation home in Baltimore and took him along on official government business in Washington, D.C., where Hikozo had the distinction of becoming the first nonofficial Japanese to shake hands with a U.S. president—the 14th president of the United States, Franklin Pierce.
That was in the summer of 1854. In the fall, Sanders found a school for Hikozo—he entered Brother Walter's class at St. Joseph's
Classical and Commercial Academy at Calvert Hall, less than a decade after the school opened its doors in 1845. Hikozo's classmates welcomed him like a brother.
"My fellow students were exceedingly kind: at each recess, they would come around me and teach me the language as well
as help me with my lessons," he wrote.
Hikozo was baptized at the Cathedral of the Assumption in Baltimore, the first Japanese to be baptized by a Catholic priest in 200 years. He took Joseph as his Christian name and Americanized his surname to Heco.
The First American Christian Brother
Joseph Heco's story personifies Calvert Hall's mission to provide
a diverse community of young men with a broad and balanced human and Christian education, and its core beliefs that Calvert
Hall fosters an appreciation for the uniqueness of each person and that a caring community develops the interpersonal relationships that are vital to the educational process.
September 15, 2020, marks the 175th anniversary of Calvert Hall, the first permanent Christian Brothers school in the United States. In 1837, Archbishop Eccleston of Baltimore heard about a new school that four Christian Brothers from France had started in Montreal. He asked them about opening a similar school for immigrant boys in Baltimore, but no English-speaking Brothers were available. Steadfast in the mission, the Archbishop recruited five young volunteers to begin their religious training with the Christian Brothers in Montreal, where they would also receive training as teachers, then return to Baltimore to open the school.
While waiting for the Brothers to return, Father White, pastor at the Cathedral of the Assumption, began construction of a two-story, 127-foot by 50-foot school building at 16 West Saratoga Street, at an estimated cost of $10,200. It was the largest hall in the city of Baltimore and was christened "Calvert Hall" in honor of Maryland's founding Catholic family.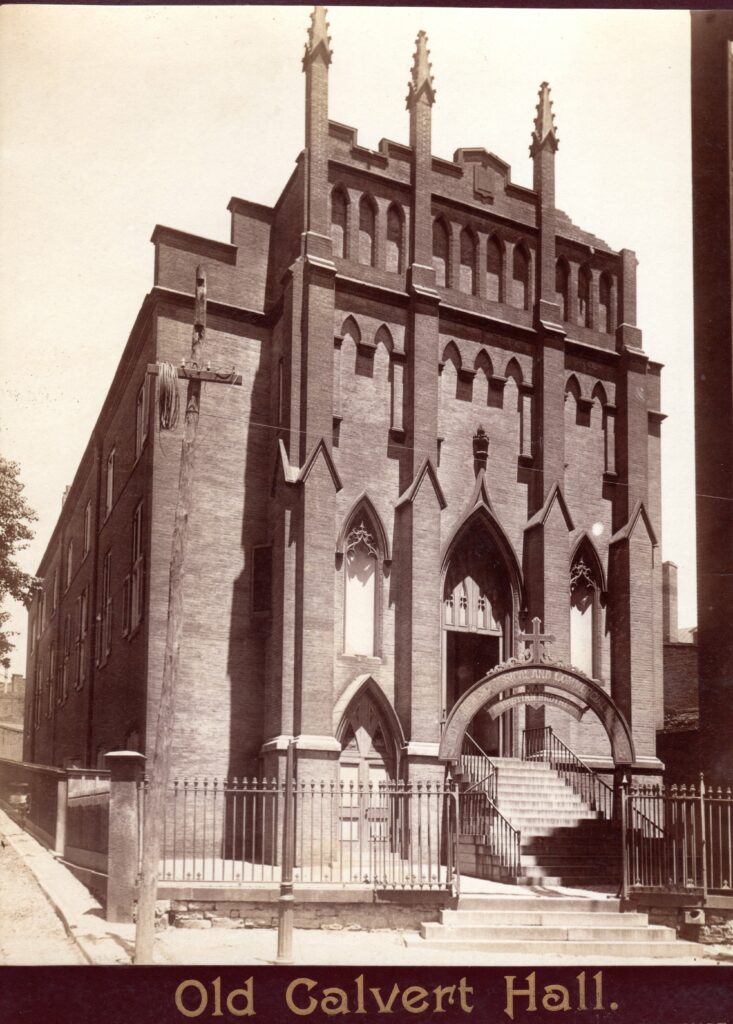 Of the five young men who ventured to Montreal to enter the Novitiate, only one, 16-year-old John McMullen, took the vows to join the Brothers of the Christian Schools. He received the name of Brother Francis. After teaching two years in Montreal, despite
suffering from tuberculosis, Brother Francis returned to Baltimore in 1845 to teach the first class at Calvert Hall. Brother Edward and Brother Ambrose completed the faculty, and the new school opened with 100 students. "I had to refuse a good number in order not to overcrowd the classes," Brother Francis wrote.
The Brothers lived in what was once described as "a miserable little house near the school." A curtain divided the kitchen and living room on the first floor, and they slept in a small bedroom on the second floor. "Like so many of God's works," one observer noted, "the foundation of the Institute in the United States was laid in poverty and privation of every sort."
Tuberculosis cut short Brother Francis' tenure at Calvert Hall, and his life. In November of the second school year, Brother Francis collapsed, and his physician ordered him to move to the warmer climate of Florida. He died on April 23, 1848, only twenty years old. Christian Brothers historian Brother Angelus Gabriel wrote of him, "In His own designs, Almighty God had made use of this frail, pain-racked, generous youth, and his noble Celtic spirit to establish the Christian Brothers in the United States."