Living the Dream
Another day—May 15, 1996, to be exact—I met with Al Lerner and Charlie Cawley of MBNA, and Hank Greenberg, the CEO of AIG, one of the largest insurance companies in the world, to discuss how AIG and MBNA might collaborate on an insurance venture. Al introduced me as MBNA's insurance consultant and asked me to make some remarks about the business. I was honored to be in the same room with Hank Greenberg. I offered my advice, and Mr. Greenberg was impressed with my grasp of the industry.
Later during the meeting, I glanced over at Charlie and noticed him writing feverishly on a piece of MBNA letterhead. He folded it and passed it to me. After the meeting, I opened the note, and my jaw dropped to the floor. It was an offer to be President of MBNA Insurance Services, Inc. The offer was full of seven-figure dollar amounts: salary, signing bonus, annual bonus, stock grants, stock options, life insurance, and a pension.
Charlie asked me to "seriously consider" his offer. I said, "OK, I'll pray about it and get back to you." The next day I asked one of my company's financial counselors to look it over. His eyes popped. "I'm telling you as your financial advisor, let your sons run your business, go up to MBNA and get your millions."
My mind drifted back in time to the parking lot at Jackie Gordon's men's store, where my dad had taken me to buy my first suit and asked me to go into business with him. Now, I had my sons in business with me; I was living my dream. With the memory of my dad burning inside me, the last thing I wanted to do was sell out my sons. I didn't care about the money. I called Charlie to schedule lunch, where I gave him my answer. "Charlie, I can't do it. Working with my sons is what I've always wanted."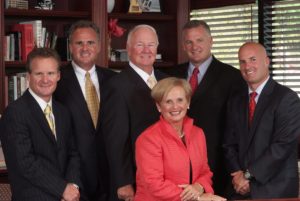 That decision had such a profound impact on me that I wrote a note explaining my reasons and saved it in a manila folder along with the original piece of MBNA letterhead with Charlie's offer. In part, it says,
"All the money in the world and all the power in the world couldn't separate
me from working with my sons and being a wise steward of all the Lord has given
to our family."

I have never regretted my choice.